TODAY: New Moon in Scorpio and Full Solar Eclipse
We have an intense and potentially very-fruitful month ahead! Today's New Moon in Scorpio is setting the tone for this next lunar cycle. At this time, it's important to delve more deeply into issues affecting our lives, as well as exploring our inner selves — to help us understand and own what we find within.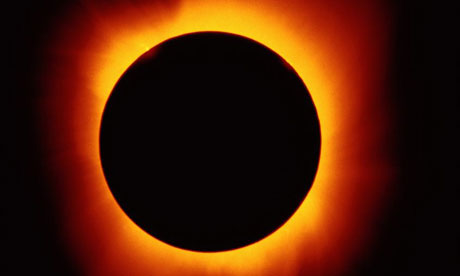 During today's Solar Eclipse, the Scorpio Moon casts a shadow on the Earth. Old emotional patterns may surface — to be acknowledged and welcomed — as they make themselves known. In these ways, we can learn where to focus our healing energies.
Molly's Astrology is a good Astrology site where Molly suggests making two lists within this next month. Between this New Moon, today, and the next Full Moon, she recommends we make a Solar Eclipse List to claim what we intend for our lives in our near and upcoming future. Then, between the Full Moon and the next New Moon, she suggests making a Lunar Eclipse List to determine what we want to let go of —to allow our best futures to unfold. These are wonderful ways to tap and use the current potent energies.
Meanwhile, Saturn, ruler of Capricorn, is moving through Scorpio for the next couple of years. Saturn is associated with structures of all kinds, both personal and societal. Introspection can yield new awareness of old and current personal issues. We're in a cycle where it's very helpful to investigate by looking within — seeing how strong structures remain steady, and how weak structures may collapse and make way for more sustainable structures – more aligned to our real needs. This is further amplified by Pluto, ruler of Scorpio, moving through Capricorn. Over the next several years, Pluto and Saturn are in "mutual reception" – moving through each other's Signs. This Pluto-Saturn mutuality will continue to assist everyone with co-supportive energies for evolving sustainable changes in our lives.
It's really important to stay grounded and steady during these times. There are many ways to do this. I find being out of doors is very grounding for me. I also have certain special rocks I've collected over the years. Holding them in my hands seems to steady me. Think of ways to help yourselves — a piece of beautiful music, a time to sit quietly. These and similar activities may also work for you. Staying steady will serve ourselves and everyone we encounter personally and professionally — helping them to also stay steady if they're feeling shaky or ungrounded. Calmness ripples outward.
Meanwhile, Uranus in Aries is in tense relationship with Pluto in Capricorn. Uranus breaks down whatever weaknesses there are in structures, especially societal structures. Uranus is also the energy of breaking though limiting belief systems. Suddenly things are different, perhaps even unrecognizable from before. Uranus in Aries opens ways of transforming old patterns into unanticipated and even very welcome innovative solutions!
As well, Mercury is still moving Retrograde until November 26, when it turns forward again. This is an excellent time for reflection, review and reconsideration!
These are the times prophesized by Elders of many traditions including Maya, Hopi, Hindu, and Algonquin. They reminded us that we always have a choice — to take the low road of expediency and selfishness or to take the high road of caring, responsibility and commitment.
We are at a pivotal time in history where our choices will dramatically shape our future.
Please feel free to ask me any questions you may have and certainly you can share this email with others.
Keep looking up!!
Eleanor